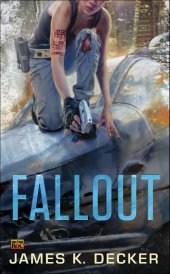 FALLOUT (SERIES BOOK #2)
Sam Shao has found out too much about the haan, by accident. All humans have to get along with them—we owe them our lives—and Sam even counts a haan among her best friends. But the more she learns, the less she trusts them
It doesn't help that the building of new haan colonies seems to be coinciding with a rash of missing persons cases. Sam and her hacker friends are determined to reveal the truth about the haan, before it's too late. The aliens are still promising salvation, and they seem set to deliver, but with things already spinning out of control Sam is confronted with a possibility no one wants to admit—that what salvation means to humankind and what it means to the haan may be two horribly different things.
Praise for The Burn Zone
"A thought-provoking thrill ride that evokes themes touched upon by the novels of Octavia Butler and films like District 9 and Minority Report, and Dark City. The Burn Zone surprised me with its depth and Decker's ability to tell an intimate story…with a more grand backdrop and potential to take a larger series to many different places. An early contender for one of the top SF novels of 2013."—SFFWorld
"With a tricky plot, a fascinating alien race, and a resourceful heroine whose story deserves many follow-ups, this series debut should please fans of Peter Hamilton, William C. Dietz, and John Scalzi."—Library Journal
"[A] fast-paced world…grounded and plausible, taking equal parts District 9 and Arthur C. Clarke's Childhood's End…and it hits a lot of the right buttons. It's got plenty of action, a cast of smart characters, [and] an intriguing plot."—GeekExchange.com
"A dark, science fiction action-packed thrill ride. Fast-paced, edge-of-your-seat excitement paired with mystery and high tech gadgets, made this one hard to put down…a memorable, exhilarating read."—SciFiChick.com
"An adrenaline rush and the twist presented in the last chapter leaves you wanting more."—Addicted2Heroines.com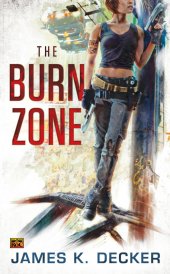 THE BURN ZONE (SERIES BOOK #1)
Plagued by overpopulation, disease, and starvation, humanity was headed for extinction—until an alien race called the haan arrived. And then the real trouble began.
It's been a rough day for Sam Shao. As part of a program that requires humans to act as surrogates to haan infants, Sam has been genetically enhanced to bond with them. So when three soldiers invade her apartment and arrest her guardian for smuggling a dangerous weapon into the country, Sam can sense that something isn't right. One of his abductors is a haan masquerading as a human, and the supposedly fragile haan seems to be anything but.
Racing through the city slums, trying to stay one step ahead of the mysterious haan soldier, Sam tries to find the man who, in her twenty years, has been the only father she's ever known. Could he truly have done what he is accused of? Or did he witness something both human and haan would kill to keep hidden? The only thing certain is that the weapon is real—and lost now somewhere in a city of millions.
Fighting the clock, Sam finds an ally in Nix, a haan envoy devoted to coexisting with humans, or so it seems. But what she really needs are answers. Fast. Or else everything she knows—and everyone she loves—will burn.
"Fast-paced, gritty, suspenseful."—Hugo Award-winning author Robert J. Sawyer
"Between the bone crack tension, the fertile cascade of ideas, and the neon bright setting, The Burn Zone is a hell of a ride."—National Bestselling Author Richard Kadrey
"Fast, unrelenting, and uncompromising, The Burn Zone is an adventure you won't want to miss."—New York Times bestselling author Mira Grant.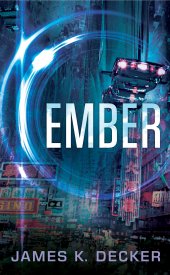 EMBER (Prequel Novella)
Dragan Shao is a dedicated soldier, but he's seen—and delivered—too much death and despair as a border zone guard. After he secures a discharge, he travels to the gritty city of Hangfei, where he hopes being a security guard patrolling the impact rim—the wasteland that surrounds the haan spaceship since it crash-landed fifty years ago—will be a less devastating duty. But that's before he receives a distress signal from a girl more in need of saving than himself…